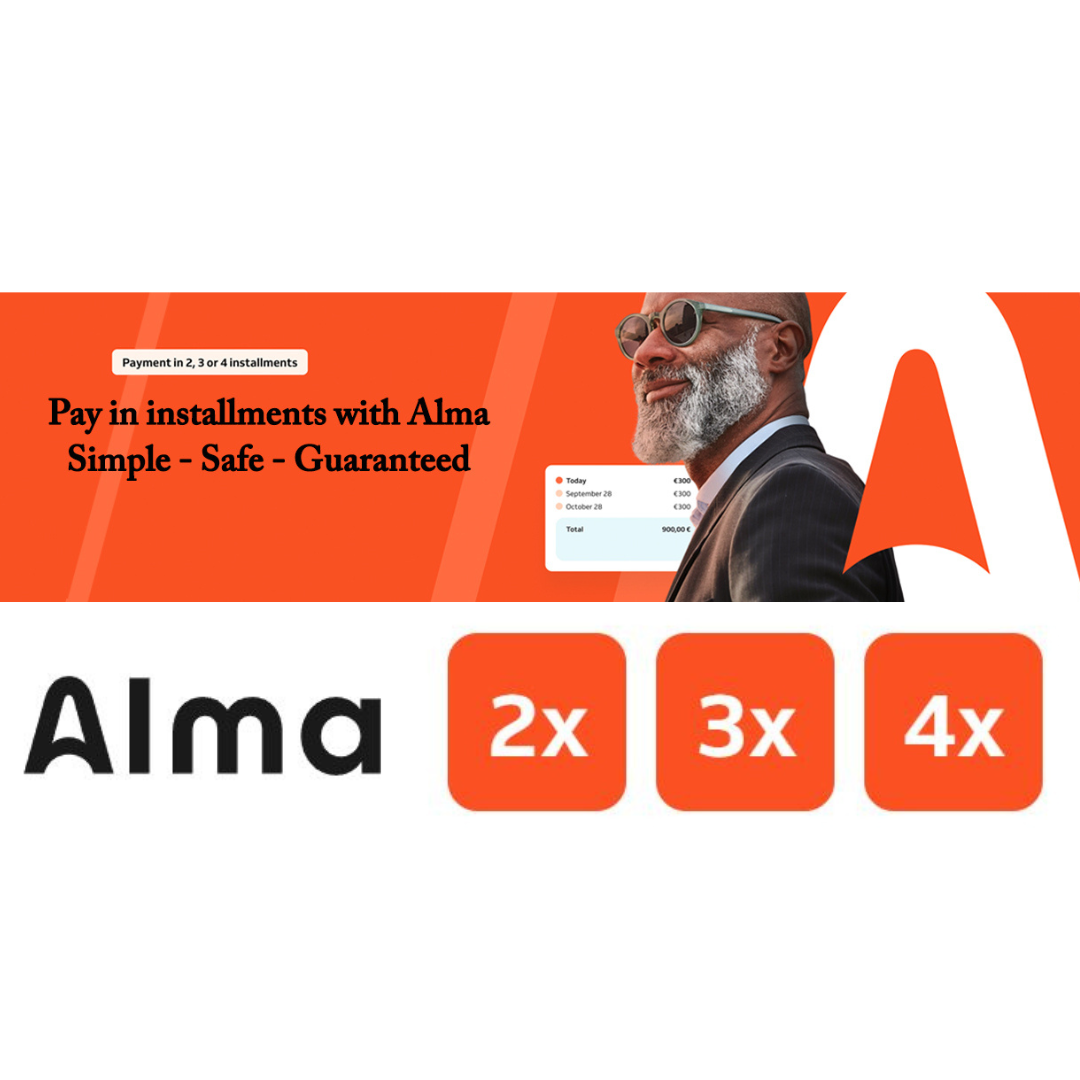 A BETTER SHOPPING EXPERIENCE
With Alma we offer you the possibility to defer your payments in several installments. It's simple, safe and very fast ! You can pay in 2, 3 or 4 installments.
How does it work ?
Choose Alma at the time of paying. You can pay in 2, 3 or 4 installments. Only the first instalment will be deducted on the day of purchase.
You just need to insert your phone number and card. Yes yes, just that!
As fast as cash. The validation of your request is fast. It's just a few clicks away, and your payment is accepted instant.
You will then receive an email with the payment plan and then a reminder two days before each installment is payable.
A customer area to manage everything : Find and manage all your Alma payments in one place. Change the date of your direct debits at any time from your customer area.
What are the conditions for using Alma ?
This payment is available for all orders from €50 to €2000
The cards accepted are those issued in France, Belgium, Spain, Germany, Italy, Austria, Ireland, Luxembourg, Netherlands
Card types accepted : credit, debit and Amex
Prepaid cards are not accepted by Alma
Totally secure: Your data is encrypted and processed in compliance with the RGPD. Your payments are protected by the 3D-Secure protocol.
Do you have questions ?
If you have any problem with your order paid in installments with Alma, you can go to our frequently asked questions section : https://help.almapay.com/hc/en-gb/categories/360001414839-Consumer
Example :
Florian Nörl, O.T. (Original Textilstein), Textilstein, 21 x 21 cm, 2022