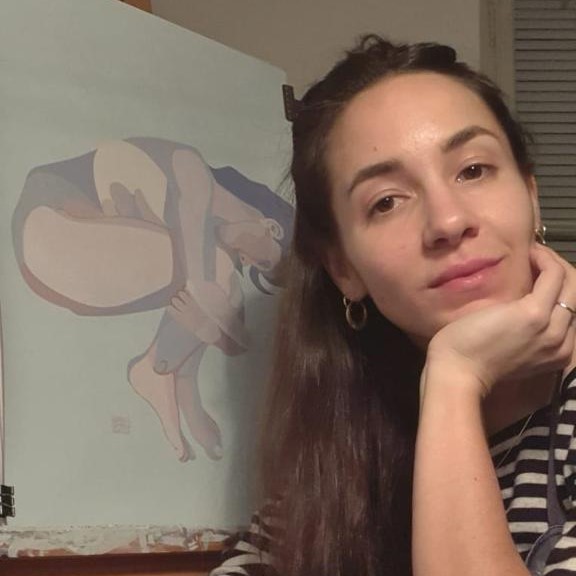 The process of self-reflection dominates Sarah Renz's artistic work and is closely related to her with her environment, communicated truths and their questioning.
The focus of her works is the individual through clearly defined, minimalist surfaces, delimited by colours or lines, the portrayed person is depicted far away from social social contexts.
The depictions of the human body in its most natural, but also most vulnerable form is to draw attention to an unadulterated truth of the self and to answer the question "Who are we / do we want to be? far away from imposed conventions?
2021
URO ZENTRUM
kuratiert von Junge Kunst | Gruppenausstellung | Uro Zentrum, Perchtoldsdorf
JUNGE KUNST Vol. 16
kuratiert von Junge Kunst | Gruppenausstellung | Damani, Wien
HOFFNUNG
kuratiert von Einflussraum | Gruppenausstellung | Einflussraum, Wien
2020
ONLINE POPUP GALLERY
kuratiert von PopUp Gallery | Gruppenausstellung | Wien
2019
ARTATTECH
kuratiert von ArtAttech | Gruppenausstellung | Volkstheater, Wien
2003 – 2008
HBLA FÜR KÜNSTLERISCHE GESTALTUNG
(Reife- und Diplomprüfung)
Ausbildungsschwerpunkt Gestaltung und Ausstattung
Künstlerisches Abschlussprojekt zum Thema Selbstfindung in den Bereichen Malerei und Skulptur