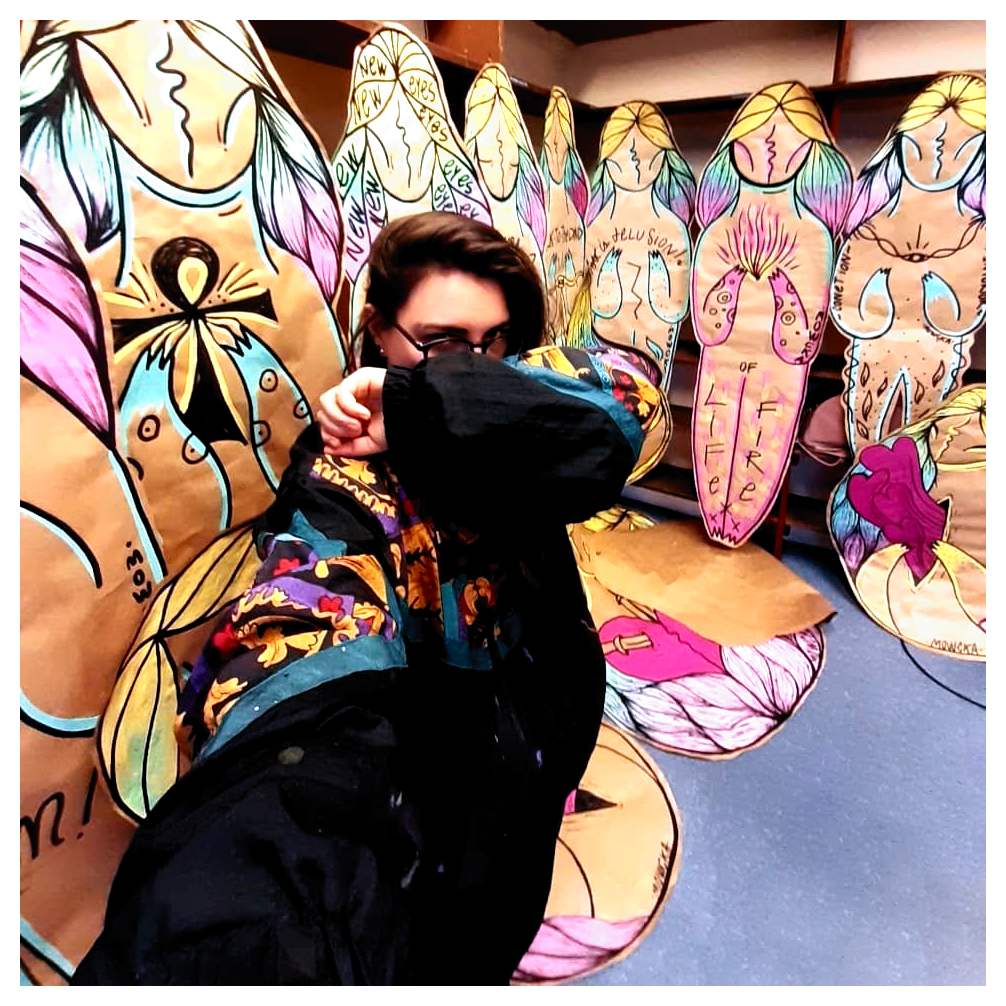 Mali Mowcka painting on Great Eastern Street
Mowcka was born in Buenos Aires, Argentina in 1989.
She studied at the University of Fine Arts in Barcelona, and previously studied at the school of Antonio Berni (Buenos Aires, Argentina) and at the ASAB faculty (Bogotá, Colombia).
Mowcka currently lives between Barcelona and London, and travels constantly to different big cities intervening in the streets with murals and paste ups.
She has exhibitions and participated in festivals in several cities in Spain, UK, France, USA, Argentina, Japan.
Her work is characterised by her pieces of different characters with positive messages, in a search to explore the inner self to connect us with nature, with our feelings and creating balance in the face of all the situations that we are constantly presented with in life.
Simplicity is an important symbol in her works, where her characters create a sensitive dialogue, full of vibrant colours, where everything interacts harmoniously creating links with the elements of nature, full of symbolism, always in search of introspective reflection, observing the change and the contracting movements.
2022
PAAM project, Raima BCN, Barcelona, Spain
2021
Open day, La Plataforma, Barcelona, Spain
2020
Solo Show Brick Lane, London, UK
Tigre abierto, Casa de la cultura Tigre, Buenos Aires, Argentina
2019
Pop Up show, Barcelona, Spain
Taller oberts,Born, Barcelona, Spain
Sold Out show, Barcelona, Spain
Wom Collective, London, Spain
Not my planet, Art House Project, London, UK
Solo show, ARTLAB, New York, EEUU
The living gallery outpost, New York, EEUU
2018
Le Lavo-Matik, Paris, France
Street art Fest, Rise gallery, Croydon, UK
Number 90, London, UK
Taller oberts, Museo del DIseño, Barcelona, Spain
Fem Art, Barcelona, Spain
HS-LAB, Hiroshima, Japon
Mostra Sonora i Visual, CC Convent Sant Agustin, Barcelona, Spain
Festivals and Art Interventions
2022
Journe internationale, Hand on urban art,Montpellier, France
2021
Pinta Malasaña,Madrid, Spain
Arte joven Mahou, Madrid, Spain (first Prize)
Open day, La Plataforma, Barcelona, Spain
Las pibas producen, Barcelona, Spain
Artistas trabajando, Fundacion Osde, Buenos Aires, Argentina
2019
Columing, Impact Hub, Madrid, Spain (award)
Street art Cheltenham, Cheltenham UK
Art on Terry, Patchogue council, New York, EEUU
2018
Street art Fest, Rise gallery, Croydon, UK
Gloval street art, London, UK
Art on Terry, Patchogue counsil, New York, EEUU