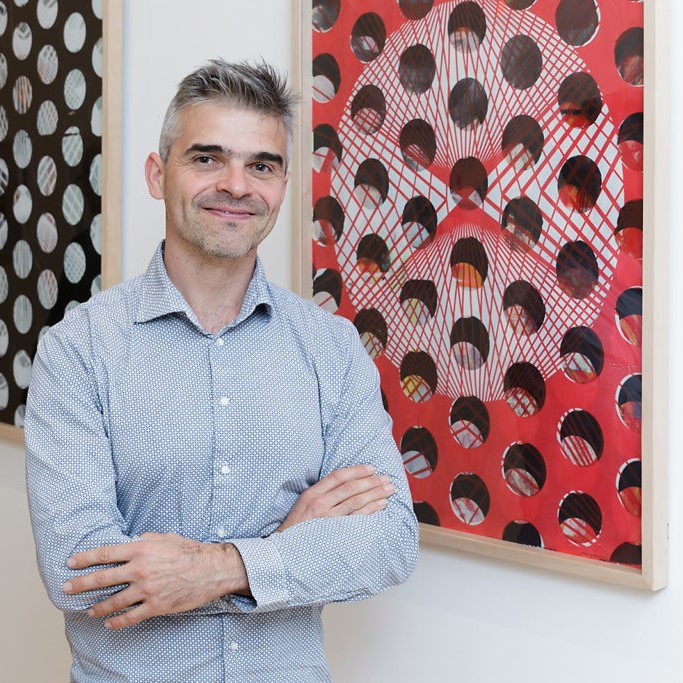 In the flow - Video message from the studio Michael Wegerer in an unusual time
Michael Wegerer (*1970 in Austria) works with extended methods of printmaking, drawing, sculpture, and installations.
In his artistic work, Wegerer concentrates on the investigation of culturally and historically evolved phenomena of perception through images and text, with a focus on the interplay between colour and structure in recent years. His multifaceted oeuvre sometimes includes a strong reference to the aesthetics of modernism.
Starting from basic geometric shapes, he deals with the principle of the serial, which is also central to screen printing, and the relationship between colour, rhythm and movement. The interaction between viewer and artwork also plays an important role, as does the idea of experiencing the respective work in new ways again and again by changing one's own point of view.
Michael studied at the University of Applied Arts in Vienna and the Royal College of Art in London. During several international working periods in Great Britain, Ireland, Australia, Sweden and China, he has been developing experimental and versatile screen-printing techniques since 2006.
He currently lives and works in Vienna.
2021
"SOLO", Projekt at the printing talbe , Viadukt Screen Prints, Vienna, AT
2020
"Grafik", Kunst im Traklhaus, Ausstellung im ehem. Hödlmoser Atelier, Salzburg, AT
2019
"QuintPrint:Glas", book-presentation & show, AIL, Viennna, AT
2018
"Light Traces of Geometry ", Wharepuke Gallery, New Zealand
"418: I'm a Teapot" , Loft8 Galerie, Vienna, Austria
"In Situ – in the studio", curated by Maria Holter, Vienna, AT
2017
"BeLICHTung", NK Galerie, Wr. Neustadt, AT
"LICHT", Blaugelbe Galerie Zwettl, AT                                                          "Bouncing Borders", Bildraum 01, Vienna, AT
2016
"Maze&Monsters", Waldorf Mauer & Künstlerhaus, Vienna, AT
2015
"Let me Google that for You", Gallery Rostrum, Malmö, Sweden
2014
"F!GURES", KIS-Gallery, Vienna, AT
"Ljus och Språk", Örnsköldsviks, Sweden
2012
"Gradual Amalgamation", Artothek Krems, AT
2011
"You make Me feel mighty Real", Haus der Kunst, Baden, AT                                  "In Black Dust", Final Show, Royal College of Art, London, UK
2009
"Planta Baja", Ingráfica, Cuenca, Spain                                                                 "Translab (distant divergences)", RMIT University, Melbourne, Australia           "Open Source", Kunstraum Arcade, Mödling, AT
2019
"Blue glasses with a mirror effect" (with M. Wielek-Mandrela) , StrefArt Gallery, Tychy, Poland
2016
"Piano Sublimation #3", (coll. JUUN), Brucknerhaus Linz, AT
2014
"Tell me what you want" (mit D. Peeva), Künstlerhaus, AT
"Piano Sublimation #2,5" (with JUUN), Fab Gallery, Alberta, Canada
"Clusterwolke" (with Barbara Höller), OOE Kunstverein Linz, AT
"Piano Sublimation #2" (with JUUN) Porgy&Bess Vienna, AT
2013
"Piano Sublimation #1" (with JUUN), Künstlerhaus, Vienna, AT
2008
"Reset", (with Gerhard Kaiser) Galerie Schloss Bad Fischau, AT
2021
"Screen on paper 2" online exhibition, Megalo, Australia
2020
"Art of staying home", Bibliothekca Alexandria, Egypt
"Screen on paper" online exhibition, Megalo, Australia
"genie&gender", KV Baden, Baden AT
"Fake&Fragement", Sehsaal, Vienna, AT
2019
"anniversary", Flat1, Vienna, AT
"36th Austrian Graphic Art Comp.", TAXISPALAIS, Innsbruck, AT
2018
"geometric stories", ecoart, Palais NOE, Vienna, AT
Novosibirsk Triennial at State Art Museum, Russia
"Printabilities", St. George's School Art Gallery, Köln, DE
"Strukturen5", KV artP, Perchtoldsdorf, AT                                                    "CODES", foryouandyourcostumers, Vienna, AT                                      "Attr_action", Kunstraum Retz, AT
"MESH", Rostrum Gallery, Malmö, Sweden
2017
"5th Int. Printmaking show", Wharepuke, New Zealand
"DOBEDOBEDO", KV Baden Gallery, AT
"Druckgrafik, die Druckgraphik, Atelier Salzamt, Linz, AT
"In transition", periscope, Salzburg, AT
"Das bessere Leben", Künstlerhaus05, Vienna, AT
2016
"Abenteuer Wirklichkeit", Forum Frohner, Krems, AT
"Mission to Mars", Flat1, Vienna, AT
"Phänomen", basement, Vienna, AT
"Fünfzehn", DOK NOE, St.Pölten, AT
"Akte A-Z" periscope, Salzburg, AT
"Summer Show", KV Baden Gallery, Baden, AT
8th Intern. Print Biennial Douro, Portugal
2015
"LOOP", with Barbara Höller, Scott Betz, Richard Phillips, Künstlerhaus, Vienna, AT
2nd Global Print, Douro Biennal, Portugal
"100 Meisterwerke", Gallery KV Baden, AT
5th Biennial of Drawing, Serbia                                                                  "Dis/Order", ArthurSchnitzlerPark, BAHNHOF-Baden, AT                             "Sphere", University of Tennessee, Knoxville, USA
2014
"TIME(LESS) SIGNS", ACF, London, UK
"Fluxus" (kuratiert von Lukas Pusch), Vienna Contemporary, AT
"235/100", Gallery ACEcka Zrenjanin, Serbia
"Hocker Stuhl Sessel", Traklhaus, Salzburg, AT
"Unbounded", Mingyuan Art Museum, Shanghai, China
"The Negligent Eye", The Bouecoat, Liverpool, UK
"4muerz2beat14", KunsthausMürz (mit Manfred Wakolbinger, Gerhard Kaiser, Leopold Kogler), AT
"Critical Mass", Little Art Parlour Gallery,Novi Sad, Serbia
"4muerz2beat14", Kogler/Kaiser/Wakolbinger/Wegerer, Kunsthaus Mürz, AT
"Salonely, Embassy" Gallery, Edinburgh, Scotland
"Critical Mass" Fundación´ace, Buenos Aires, Argentina
2013
"Mobiliar im Blickfeld", Stadt Galerie, Waidhofen/Ybbs, AT
Zeichung Zeichung, k-haus, Vienna AT
In.print.out, Print-Triennial, Künstlerhaus, Vienna, AT
Post Occupancy, art.p gallery, Austria
New Members, KV Baden, Austria
Critical Mass Portfolio,SGCI, Milwaukee, USA
2012
ON – Zeitlose Zeichen (A tribute to Otto Neurath), Künstlerhaus, Vienna, Austria
Sarajevo Transit / Celle, Galleria Collegium Artisticum, Sarajevo, Bosnia Herzegowina
Abra Kadaver, dieausstellungsstrasse, Vienna, Austria
Central Print Exchange Exhibition,Hongqiao Museum of Contemporary Art, Shanghai, China
Beyond the Screen, 12 Star Gallery, London, UK
Folio RSC, Shakespeare Project, London, UK
Expanded Painting, VisarteM54, Basel, Switzerland
Paradise, Anna Pappas Gallery, Melbourne, Australia
2010
Hockney Gallery, London, UK
RCA Secret, Royal College, London, UK
8e Triennale de Chamaieres Mondial, AMMAC, France
Consequences, Parfitt Gallery, London, UK
Multiple matters, Künstlerhaus, Vienna, Austria
Cafe Gallery, Southwark Park, London, UK
MMX, RCA, London, UK
2009
From a Matrix, Ljubjana, Slovenia
Int. Print Triennale, Krakow, Poland
Technik und Kunst, Kellergalerie, Vienna
Druckort:Wien, Nationalgalerie Sofia, Bulgarien
2008
Multiple spaces, Qubik, Karmeliterkriche Wr.Neustadt, Austria
Sommer Dialog, Educult Museumsquartier, Vienna, Austria
Skulptur, Kahnweilerpreis Ausstellung, Rockenhausen, Germany              Displayced, Diplomausstellung, Universität f. Ang. Kunst, Vienna, Austria
2007
Baghdad in love; Symposium; WUK, Vienna, Austria
Triangel, Schloß Bentlage Rheine, Germany
Print, Graphik-Triennale, Künstlerhaus, Vienna, Austria
Essence07, MAK, Museum of Applied Arts, Vienna, Austria
Maximize the Minimum, Kunsthalle Wien Project Space, Vienna, Austria
Premio de Gravado "MaximoRamos", Concello de Ferrol, Espana
Holz & Papier, Galerie Feuerwerk, Fügen/Tirol, Austria
Fünffach, PricewaterhouseCoopers, Vienna, Austria
2006
Ursula Blickle Videopreis 2006, Kunsthalle Wien, Videolounge, Vienna
Debutnale06, VideoAward, IFKE, Linz, Austria
Installation#7, Qubik Space, Wr.Neustadt, Austria
Kunst im Raum, KV Favoriten, Vienna, Austria
Essence06, MAK, Museum of Applied Arts, Vienna, Austria
2005
Installation#1, Qubik Space, Wr.Neustadt, Austria
Essence05, MAK, Museum of Applied Arts, Vienna, Austria
Ausstellung, Kunstakademie Münster, Germany
Robert Schmitt Print Award, Kleine Galerie, Vienna, Austria
2004
Figurama 04, Brünn, Znaim, Cech-Republik
Aqua forte, Kleine Galerie, Vienna, Austria
Sechs aus Drei, Mc Kinsey, Vienna, Austria
2003
Figurama03, Wien-Brünn-Prag-Mainz, Austria, Cech-Republik, Germany
2021
Art Fair – Parallel Vienna, Solo Presentation, Galerie Michaela Seif,
Vienna, Austria
Art Fair – Parallel EditionNo1 (Viadukt Screen Prints), Vienna
2020
E/AB Fair 2020 NYC, (Viadukt), New York, USA
Art Fair – Parallel 1 (kuratiert von M.Holter), Vienna
Art Fair – Parallel 2 (mit Kurt Spitaler), Vienna
Art Fair – SIAF (Galerie M.Seif), Salzburg, AT
2019
ViennaArtBookFair#1, (with Quint Screen Print), University of Applied Arts, Vienna, AT
SIAF – International Art Fair, (with Galerie Michaela Seif), Salzburg, AT
Art Austria, Art Fair, (with Loft8 Gallery), Vienna, AT
Art Vienna Art Fair, (with Loft8 Gallery), Vienna, AT
2018
Art Fair Perchtoldsdorf, (with p.contemporary Gallery), Austria
Parallel, Art Fair, (with Kunstraum Retz), Vienna, Austia
Supermarket Art Fair, (with KV Baden Gallery), Stockholm, Sweden