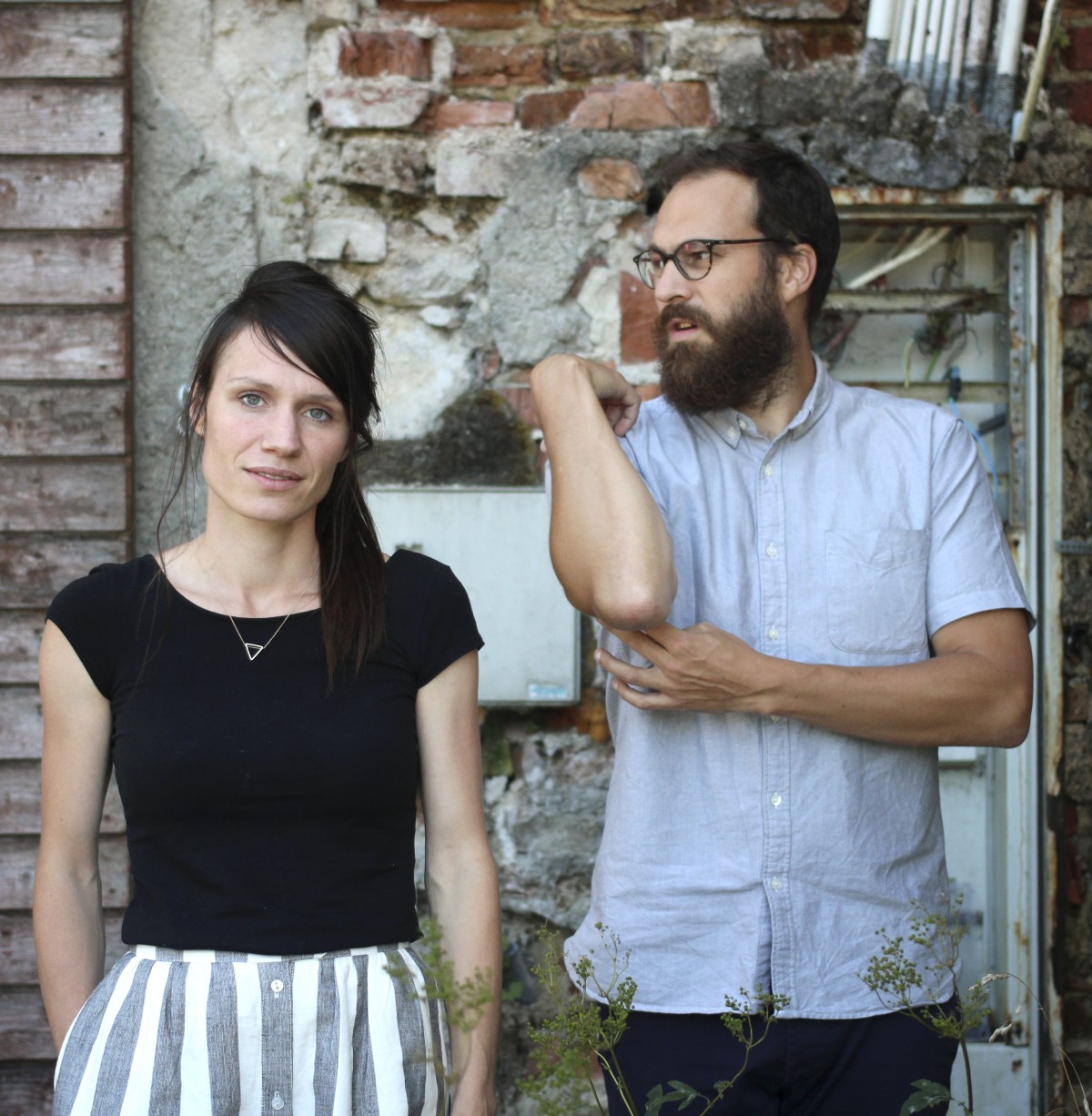 Jana & JS - Mx Arts Tour 2021
Jana & Js
AUSTRIA & FRANCE
Austrian and French street artists Jana & Js are painting together since 2006. The pair create polychromed stencil murals widely ranging in size. Based primarily on their personal photographic work, the stencils seem to respond and interact with their surroundings. Mostly inspired by the city and people living in, their paintings merge urban landscape or architecture details with portrait, questioning the place of human being in the modern cities. Inspired by the place where they put their work they now focus on nostalgie, melancholy.
After spending some time in Madrid, Spain where they met and living a couple of years in Paris, Jana & Js are now setteled in Salzburg – Austria.
To display their works, they choose old materials that are showcasing the passing of physical time and history. They have made their art in unexpected spaces by printing stencils on public infrastructure or on the semi-finished/dismantled products/spaces such as the train tracks, old buildings, poles, pieces of concrete, old trucks, wood piles…
They are deeply inspired by every place they travel to, deciphering the social meaning in unforeseen aspects of urban landscapes. But what is the most striking part in their works are not panoramas themselves, but people with their existential uneasiness. They have the unique way of relating people, their emotions, desires and concerns with their environment.
Their urban interventions merge their subjects with the environment, provoking thoughts and engaging the viewers in an artistic dialogue.
Credit photo : Martin Leixnering
2020
"Time will tell" le Lavomatik, Paris, France
2019
"Solo Show" Kolja Kramer Fine Art, Vienna, Austria
"No broken Promises" Thinkspace Project Room, Los Angeles, USA
2018
"The Stories and the Memories we built" Orlinda Lavergne Gallery, Mulhouse, France
"Fragments of Memories", Fullerton Museum Center, Fullerton, CA., USA
"Ode to the other", Le Lavo//Matik, Paris, France
2017
"De la profondeur des sentiments", Galerie Joel Knafo, Paris, France
"One Artist Show", Art Karlsruhe, Galerie Petra Kern, Germany
2016
"Inner World", Stolen Space Gallery, London, England
2015
"A Matter of time", Pretty Portal Gallery, Düsseldorf, Germany
"Forget the outside", Inoperable Gallery, Vienna, Austria
2014
"Beyond the Facade", Art To Be Gallery, Lille, France
"Mutation Urbaine", Galerie Haus der Kunst, Graz, Austria
2013
"It Doesn't Matter Who They are", Galerie Openspace, Paris, France
"We will always be together", Art To Be Gallery, Lille, France
2011
"Jeux de constructions", Galerie Itinerrance, Paris, France
2021
"Break that Wall" – Galerie Mazel, Bruxelles, Belgium
2020
"10 years anniversary show" – Galerie Mathgoth, Paris, France
2019
"Spotlight Stencil", Hashimoto Contemporary, New York, USA
"Urban Contemporary", Galerie am Markt, Schwäbisch Hall, Germany
"12 x 12", The Stockroom, Melbourne, Australia
2018
"3 Year anniversary show", The Stockroom, Melbourne, Australia
"Peace Project", Museum of Young Art, Vienna, Austria
"Sichtweisen", Kunst Kompetenz Petra Kern, Heidelberg, Germany
"Viva con agua", Millerntor Gallery, Hamburg, Germany
"Best of street art", Kolja Kramer Fine Arts, Vienna, Austria
2017
"Urban Art Wood", Galerie Joel Knafo, Paris, France
"Cox Crew", Cox Gallery, Bordeaux, France
"Cut Out", UrbanShit Gallery, Hamburg, Germany
"Petits pochoirs entre amis", Galerie Lithium, Paris, France
"Into the steel", La Popartiserie, Strasbourg, France
2016
"Nexxus", The Brand Library & Art Center, Glendale, CA, USA
"Into the woods", La Popartiserie, Strasbourg, France
"Please don't touch", Galerie Openspace, Paris, France
"LAX-ORD", Vertical Gallery, Chicago, USA
"The New Vangard", Museum of art and History, Lancaster, USA
"Three Year Anniversary", Vertical Gallery, Chicago, USA
"Duo", Thinkspace Gallery, Los Angeles, USA
"POW!WOW!", POW!WOW!HAWAII & Thinkspace, Honolulu, Hawaii
2015
"The Power Of Paint", Vertical Gallery, Chicago, USA
"Grand Opening", Openspace Gallery, Paris, France
"LAX-LHR", Stolenspace Gallery, London, England
"Ausschnitte", Urbanshit Gallery, Hamburg, Germany
"Your Kid Can't Do This", aMBUSH Gallery, Sydney, Australia
"Cut it Out", Urban Nation, Berlin, Germany
"La toute première fois", Galerie Clemouchka, Lyon, France
2014
"Cash, Cans and Candy", Galerie Hilger Next, Vienna, Austria
"Kaleidoscope", Galerie Speerstra, Bursins, Switzerland
"Spectrum", Stolen Space Gallery, London, UK
"Stencil Only", Galerie Pretty Portal, Düsseldorf, Germany
2013
"Opus Delit Show", Espace Pierre Cardin, Paris, France
"Stencil Only", Galerie Pretty Portal, Düsseldorf, Germany
2012
le Mur de l'Art, Espace des Blancs Manteaux, Paris, France
"Sur papier", Galerie Celal, Paris, France
44 De l'Art contemporain à l'Art Urbain, Galerie Artfiler, Brüssel, Belgien
"Fifty/Fifty", Galerie Mathgoth, Paris, Frankreich
Project Outdoor ARTFAIRS selection
2020
Calle libre Festival – Vienna, Austria
Le clos du chène, Montevrain, France
Bratislava street art festival 10 years, Bratislava, Slovakia
Undergroud effect, La Défense, France
Wall street art grand Paris sud, Combs la ville, France
2019
Underbridge festival, Salzburg, Austria
MS Artville, Hamburg, Germany
Walls can dance, Hamburg, Germany
Art Karlsruhe, Germany
2018
Knock Knock, Land art Project, Salzburg, Austria
Lausanne Art Fair, Lausanne, Switzerland
Urban Art Fair Paris, France
Art Karlsruhe, Germany
Urvanity, Madrid, Spain
Art Up, Lille, France
2017
Art Karlsruhe, Germany
Urban Artfair, Paris, France
Art Beijing Artfair, Beijing, China
St-Art, Strasbourg, France
Scale Festival, Munich, Germany
Festiwall, Paris, France
2016
Art-Up, Rouen, France
La Reserve, Malakoff, France
Rouen Impressionnée, Rouen, France
2015
Affordable Art Fair, New York, USA
Stroke Art Fair, München, Germany
Biennale International d'Art Mural, Lille, France
2014
"DayOne Festival", Rosealare, Belgium
"In Situ Art Festival", Aubervilliers, France
2013
"40° Urban Art Festival", Düsseldorf, Germany
St-art Art fair, Straßburg, France
Lille Art Fair, Lille, France
2012
"Sand, Sea and Spray", Blackpool, England
"Bratislava Street Art Festival", Bratislava, Slovakia
2011
Zagreb Street Art Museum, Zagreb, Croatia
2010
"Qui vive?" Internationale Biennale for Young Art, Artplay,
Moscow, Russia
St-art Art fair, Straßburg, France
Stroke 02, Urban Art Fair, München, Germany