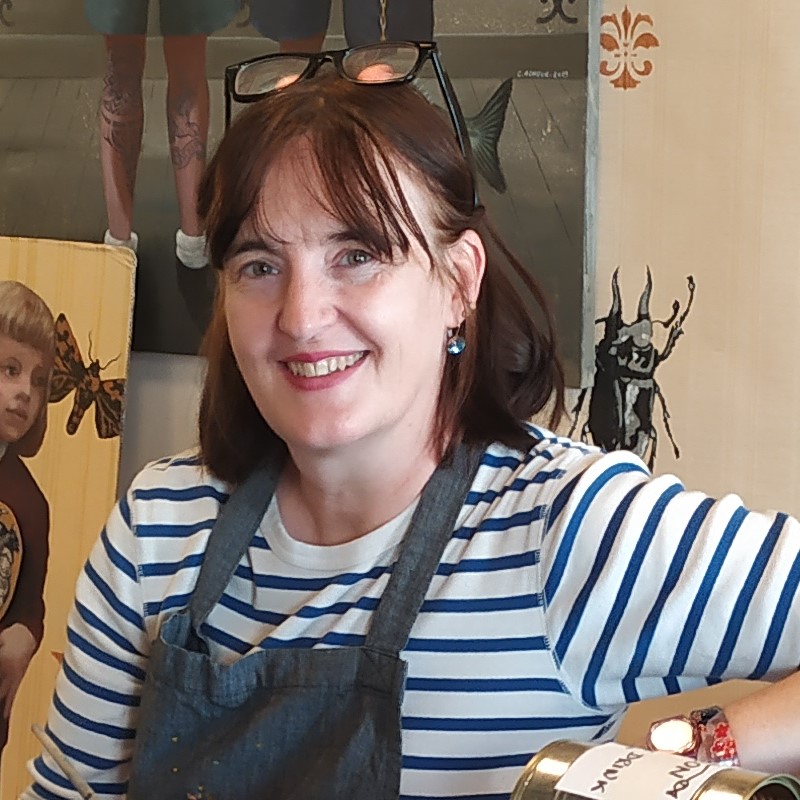 Self-taught, it is at night, during her studies of Management at Dauphine, that Céline ACHOUR creates her first representations of a singular, dreamlike and surreal world. Collage is her preferred form of expression, to which she adds her drawings inspired by fashion photography.
Twenty years later, after training in interior design at the Ecole Boulle, she returned to the path of creation with the greatest of joys. This time, it was with painting. Now trained in colour, painting techniques and perspective, there is no longer any obstacle between her imagination and the canvas that will welcome the illustration of her emotions. She has been exhibiting her paintings since 2014 in numerous shows in France (Salon des Artistes Français, Salon d'Automne, Grand Prix de St Grégoire…) and abroad (Belgium, Spain and Portugal).
Several times awarded (1st Prize of the Festilval Les Papillons in Carpentras, Medal of the National Assembly and 1st Prize of Painting of the ADAC of st Germain-lès-Corbeil, Honorable Mention Certificate at the 30th Chelsea International Fine Art Competition, Tin Medal of the Academy Arts-Sciences-Lettres…) and published in Anglo-Saxon art magazines (ArtMaze, Freshpaint, Pikchur, Candyfloss), her work can be seen in different galleries in Paris.
2020
myCowork, Paris
2018
BNP Paribas Banque Privée, Paris
Mairie de Courtry
Hôpital militaire BEGIN, Saint-Mandé
2017
We Art From Paris
2021
59 Rue de Rivoli, Paris
Galerie Ysatis, Paris & Saint Tropez
Mascarade en rouge et noir, Musée d'Art Fantastique, Bruxelles , Belgique
Mémoire(s), L'Art en Chemin, Rully
2020
Galerie Bettina, Paris
The Art Cycle, Amiens
Equilibre, L'Art en Chemin, Rully
2019
Trophée Carrare, Haras National, Saint-Lô
Salon du Cercle des artistes, Parc floral de Paris
ADAIS Underground, Lycée Amyot d'Inville, Senlis
2018
Salon Métaphore, Gisors
Festival d'art contemporain « Les Papillons », Carpentras
Festival de L'Etrange et de L'Insolite, Thorigny-sur-Marne
Salon des Peintres du Marais, Paris
2017
Salon des Artistes du Val de Marne, Saint-Maur des Fossés
Salon International des Beaux-Arts, Thionville
Festival AVC 3.0, Château de Brou-Sur-Chantereine
22e Concours Espace Christiane Peugeot, Paris
2016
Grand Prix de Peinture de la ville de Saint-Grégoire
Salon d'Automne, Paris
Centre d'art contemporain Les Eglises, Chelles
2015
Salon des Artistes Français, Paris
Gemlucart, Monte-Carlo
Grand Salon d'Art Abordable, La Bellevilloise, Paris
Catalonia Galeria de Arte, Barcelone, Espagne
2014
Galeria Art Noumillenni, Barcelone, Espagne
Art Shopping, Carrousel du Louvre, Paris
2018
1er Prix de Peinture, Festival Les Papillons, Carpentras
Médaille d'Etain de l'Académie Arts-Sciences-Lettres
2016
1er prix de Portrait, 13e Salon Européen, Brugge
1er prix de Peinture, Médaille de l'Assemblée Nationale, Salon ADAC, Saint-Germain-lès-Corbeil
Invitée d'Honneur, Médaille de la Ville, Salon Louis Legrand, Verneuil-en-Halatte
2015
Prix ADAÏS, Festival des arts contemporains, Senlis
Honorable Mention Certificate, 30th Chelsea International Fine Art Competition
Prix Pierre Rannaud, Biennale de Chatou